What does
BACKCOUNTRY ADVENTURE
mean to you?

Well the words backcountry adventure are what really? ...
When I was a kid, adventure was riding the snowmobile at the cottage……
Now that I'm a more experienced sledder (older!) it means.…the backcountry… ....boondocking …riding in the trees……off trail.....climbing shoots and sidehilling...
…and one more thing....I still love to cut new snow...
So for me, it's GASPE-SNOWMOBILE-ADVENTURES !
Whether you're riding the logging roads or you're on Gaspésie's regular trails after a snow fall…..we all love to cut a new track…yeah, you know what I'm talking about –'to boldly go where no sled has gone before' …well, not since it stopped snowing anyway!

If you don't have a mountain sled, there are plenty of logging roads in the Chic Chocs that are usually packed enough to ride off trail on your sled…Hey you might even get lucky and get a melt before you come…then your sled won't sink and you can ride all the cuts just like the mountain sleds - and even do some sidehilling!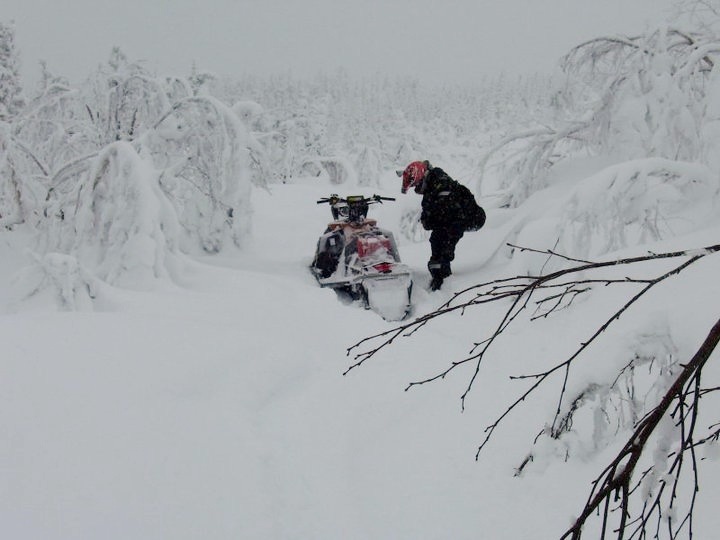 The trails lead to many of these roads as well as atv and off-season walking trails....("off-season" you know, seasons other than snow!)
| | |
| --- | --- |
| With an adventure down every trail…..bring a shovel 'cause the snow sure is deep…. | |
If you would rather ride the trees, the Chic Choc Mountains have that too.…open areas and really tight stuff.…there's always boondocking in open areas. You chose what you want to ride...
One of the best things about the riding in the cuts and trees is....your friends or wife or girlfriend can ride their trail sled on the logging road next to the cuts...so while you're living your little adventure, they can watch and take pics....no more just telling "the story"…. now it's "did you see that?"
....watching from the road....

Another convenience of the logging roads? ….well, you can't really get lost if you stick to them – the smaller logging roads usually loop back to the main logging roads.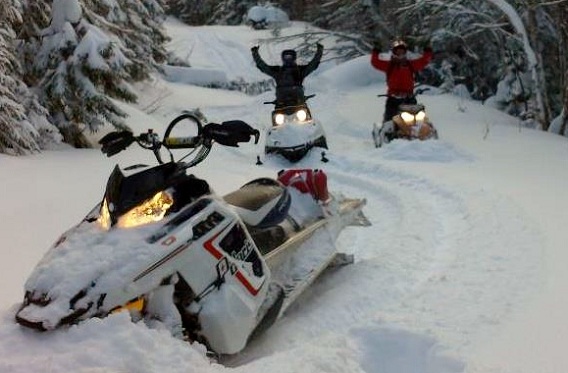 Powder does make you a kid again....yeeeaaahhh !!!

One thing we all must realize... getting stuck is part of the ride….3-5 times is not unusual in tough conditions….so if you get stuck, don't worry...that's what shovels are for and its easy....believe me...I've done it enough….lol....My wife rides with us and she is no off trail rider...back country, yes...she rides a 136 Yamaha Attak…and she has no problems on the logging roads – the ones next to those cuts.…
So don't be afraid to bring your trail rider friends….in the Gaspésie …we're all riders ….
Return from Backcountry to Home Page