Snowmobiling the Gaspé backcountry?
---
Meet the Quebecmountainrider....

Wooohoooo..........also known as l'Anglais....

The Quebecmountainrider has been snowmobiling since he was a teenager – so it's been quite a few years now. He did take a break for a few years – and he's been making up for lost time ever since –especially in the backcountry.
After many, many miles, when trail riding became a little too familiar – sledded this route one more time, travelled that one again, Quebecmountainrider decided to try something he saw on TV and discovered on the internet: Boondocking!
He has always been enthusiastic about 'all things snowmobile' but now he's become even more devoted to the sport and the variations – sidehilling, tree riding, etc., etc., etc…. The only thing he won't try is the freestyle…..did enough of that as a skier…..doesn't need that kind of rush anymore!!! Thank goodness!
Now, one of the Quebecmountainrider's pleasures is introducing trail sled riders to all the opportunities….you may not have a mountain sled but you can still get off the trail and have some fun. All it takes is some knowledge and a little courage…..... I should know! Here I was, perfectly happy to be a trail rider but I was dragged into the backcountry and if I can do it, so can you !!
Lucky Quebecmountainrider is the host at the Sled Den and gets to spend a lot of time there during snow season....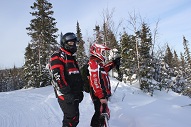 Ryan and Dad.....careful Dad, now he's bigger than you are .....

---
Meet Eva
| | |
| --- | --- |
| | Eva ......and with Ryan |
How did I get into sledding?
Well, when I first met Quebecmountainrider, he was adamant that if we stayed together, we would have to do things together…...including getting on a Ski-Doo! So for the first season I doubled on his Bombardier Summit 144. Once in a while, I was 'permitted' to drive it!!!!!
Well then….I got the bug and, as they say, the rest is history……..bought my own sled and we've been exploring ever since.
So while he's at the Sled Den, I try to get down there as much as possible, but I am stuck in the real world with a real job....
---
and Ryan....
Ryan is " the son"…..now a 6 foot 5 inch 295 lbs teenager who is, let's say…. enthusiastic…..about sledding!
Let's say it's one of his favorite things to be doing!
Let's say, that to Ryan, it's the equivalent to being a 'surfer dude'!
Ryan is very handy in the backcountry....especially when getting stuck (me) and in helping dig out (Quebecmountainrider)!
Fortunately, Ryan is still preoccupied with being an honor student at school. So while he would like to be at the Sled Den ALL the time, right now it`s only on an occasional basis!
---
....there's Natasha
Still a story to be told...........

---
not forgetting.......Cupun !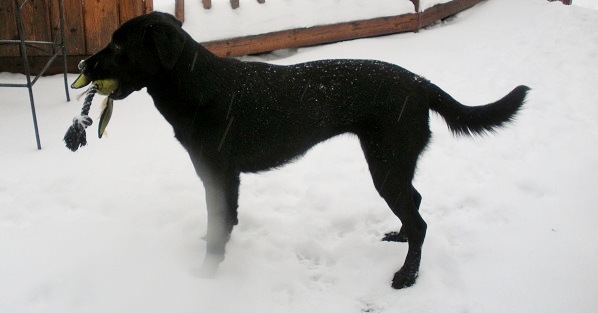 Our black Lab mix, Cupun, loves, loves, loves the Sled Den!! All that snow and room to run around..... She makes for pretty good company on the drive down too..... also a good excuse to make a few stops along the way....
By the way, in case you were wondering, Cupun is Inuit for coal.
I'm sure Cupun wishes she could be at the Sled Den as much as Ryan does!!

How did the Sled Den Guest House come to be?
After a fair number of uncomfortable beds, a few mediocre meals and, as I said, many, many miles (actually kilometers in Canada), we decided we needed a base somewhere within reasonable distance from home, Montreal, with more opportunities than trail riding available and still offering plenty of areas to discover……….we found it in the Gaspésie backcountry….and so…..
Gaspe-Snowmobile-Adventures.com was born…….
Return from Meet Us Snowmobiling to Contact Us.....