Your search for a snowmobile rental house.....
stops here...
Our snowmobile rental house, or "Sled Den" as we affectionately call it started as our home away from home base for Gaspésie snowmobiling. We've had so much positive feedback from friends that we've decided to share…….
We're not a hotel or a motel but we're more than a snowmobile rental house. The best way to describe our Guest House is a comfortable place where a bunch of people get together for snowmobiling…sledding… adventure riding…whatever you chose to call it!
We think we've pretty much found the ideal place for us and our guests – a house that's not so big it takes time away from sledding but accommodations big enough for a small gang to be comfortable. Property that's big enough to hold the house, a separate garage and still have room to park the vehicles and maneuver the snowmobiles.
Where is the Sled Den Guest House....?

Located in Rivière-à-Claude, we're about 45 kms from Sainte-Anne-des-Monts, in between Marsoui and Mont-Saint-Pierre.

Conveniently situated on rue Principale (Provincial Route 132), trails are easily accessible and it's only a short drive to the backcountry.

Street Address:
588 rue Principale East
Rivière-à-Claude, Québec
G0E 1Z0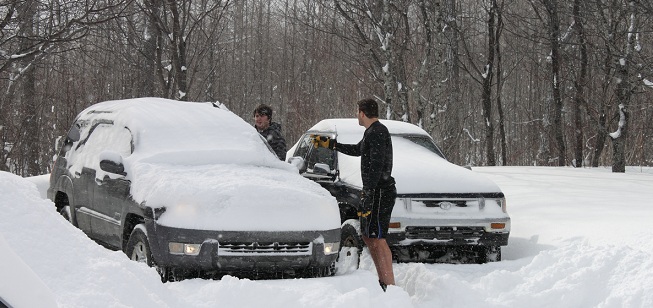 What's at the Sled Den Guest House.......?

Be it for a group of friends or mixed with individuals who become friends, we offer accommodations for up to 8 people with:
→ 4 bedrooms

→ 2 bathrooms

→ fully equipped kitchen

→ combined dining /living room with big screen satellite TV

→ limited internet

→ large, separate garage with basic tools.....just in case…..






Whether you want to be accompanied on your rides and shown the honey spots or prefer to explore on your own, The Sled Den is waiting to welcome you back from a day of adventure or leisurely riding.
Return to a comfortable retreat, kick back and relax a bit then decide on the rest of the evening….
Prefer to go out for dinner? A short trip brings you to some local restaurants.
Otherwise, plan your group dinners, perhaps review the day's photos and videos and enjoy a relaxing evening "at home".
We have various rates and plans available – just let us know what's best for you…….
Return from our snowmobile rental house info back to home