Beginning January - First Powder

The Gaspésie trails are excellent!!!! Whohoo…..Good coverage and like a carpet. No thin spots.
At sea level there is more than a foot base on the trails.
As far as the mountains….it's almost time to ride the cuts.
| | |
| --- | --- |
| | Is this BC ......or Gaspésie? |
Today was my son's birthday, he turned 18 so we went to a side hill spot that was crazy!!! Hey he's a man now….lol….and has been bugging me to go to it. It has a nasty cliff and also a deep gully where we had to winch a friend out once (yes, you Carl!)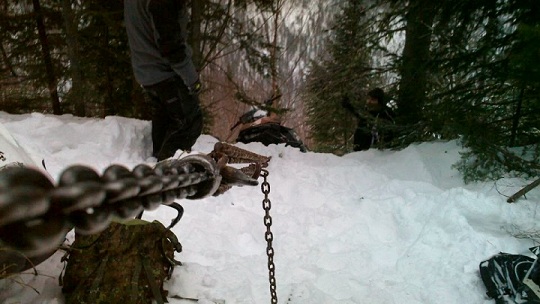 Bombardier Summit 154

Yes - with a come-along and 30 feet of chain. Had to move it from tree to tree 3 times...There was a 5 - 6  foot base but we still found the odd tree stump….no big deal because we tapped them with our track (rubber flexes – steel tables don't!).  
It has been cold here in Gaspésie and the snow is starting to firm up so it will be good for all sleds on the logging roads by this weekend.
In the meantime, there's nothing like cutting tracks with my son……..









Powder figure eights in Gaspésie -

Ryan one way, Jack the other...

Met a Scandic on a road. He was stuck,,..(brave guy ),,..So my son and I pulled him out and then had to cut a trail for him...He still got stuck 6 more times in a mile!!!!!  It was a slow climb but deep snow…..I just couldn't leave him there, could I? …..So we lost more than 2 hours and also got burnt pulling on his skies….
I think he knew he was in trouble when the snow went from 2-3 feet to well over 6 feet at 1500 feet.
There is now 7  -8 feet of snow up high…..Some places at 3000+ the wind has blown the snow off the tops. But if you know where to go the snow is stupid deep 'cause the wind blew it into the valleys. Some of these places have close to 8 feet of snow.. That's where my sled disappeared.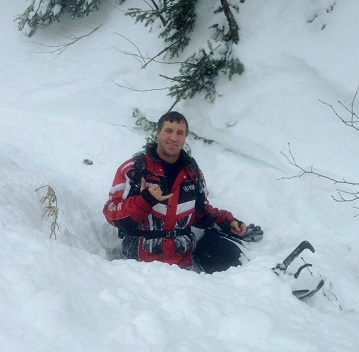 Deep Powder in Gaspésie Area X !
One more time, BRING A SHOVEL !!!!!

Get off the sled and you sink to your crotch or to your chest. YES, TO YOUR CHEST!!! You have to crawl to get around. Your sled is over your head when you try to climb on it…lol..It's like an island or a boat ...lol…
If you're above 3000 feet don't get off your sled. Here's some pics....but, I will only post videos on this site and not any others I am on… Jack
Contact us to schedule your own adventure in powder........

Return from Gaspesie First Rides to Home