What is trail riding in the Gaspésie?
I suppose trail riding is the most basic of snowmobiling and when most people ride trails, they think of how many miles they can do (kilometres in Canada!!) Or, racing their buddies from one gas station to another…
Here in the 'north shore' of the Gaspésie, you won't be riding as fast! Why not? It's a fact that many – most – I would guess 80% give or take – of the trails in the magnificent Chic Choc Mountains and along the north shore have steep cliffs. Yep, I think there's a cliff at just about every corner! I mean that usually, when you're trail riding, there's room if you miss a turn…….here, not so much!! So a little caution may be in order!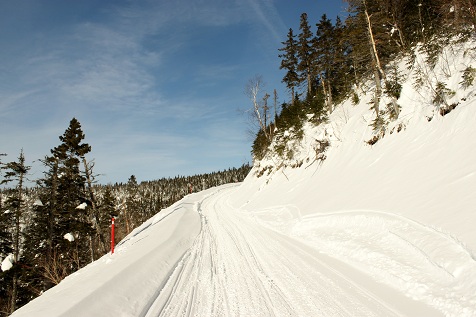 This is the Trans Quebec Trail # 5. The #5 between Saint Anne des Monts and Grand Vallée, including the Chic Choc Trail from Murdochville to La Cache has miles and miles and miles of trail like this along the sides of mountains.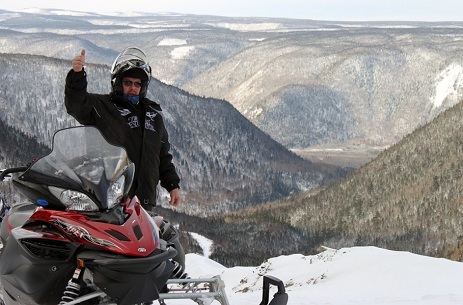 But why race anyway when there are views at every turn? If you're not looking towards the interior down through the valleys and across other rising mountains then you're gazing across the peaks to the magnificent St. Lawrence River…….

Now there's a challenge – keeping your attention on the trail in front instead of the scenery around you – but there are quite a few lookouts & places to stop, relax and just take in the vistas….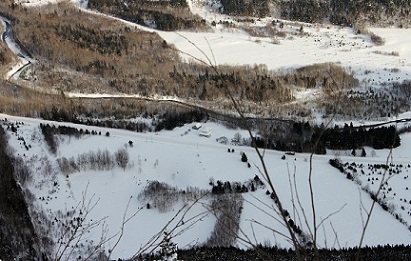 You can ride first one way then just gas up and run back the same way….see things you missed the first time! If you want to just put miles on, we'll, you're really in the wrong place……yep, you can try, but the scenery will take over the miles…..Slow down and absorb the views from 3500 feet up in the Chic Chocs…
The trails are usually like carpets here….not a lot of traffic...but lots of snow and if you come for a week's stay, pretty sure you'll get a ride in fresh powder….but why not ride trails until you get to a logging road. Then try a backcountry adventure….just make sure you have a shovel !!!.....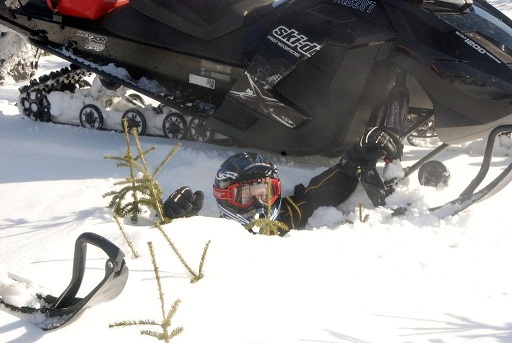 Seriously.....bring a shovel!!!

Many people do The Great Gaspé Peninsula Tour – Trans Québec Route 5…surely something to be done at least once!
If you've already experienced The Great Tour or don't want to travel the whole route, the provincial trails loop around a shorter distance and there's always the local trails and roads (out of the National Parks) which are usually smooth because of the lesser traffic…so why not pick a spot and explore the area….
Return from Trail Riding to The Backcountry