Wednesday's update
at the Sled Den

Around the Sled Den area, the trails are open and it's not bad….There are some icy spots from the wind but it's icy snow not hard skating ice.
About 80% of the trails on the north shore of the Gaspe peninsula have newly groomed snow. The drifts made the snow not spread out. The groomer did his best but there are still some spots where he couldn't move snow which left some icy spots.
| | |
| --- | --- |
| | Chic Chocs - a Sea of Mountains |
There were 6 - 8 foot drifts on some logging roads and because of this we had to turn around 3 times today. It would have been fun but we were with guests and could not ask them to go there with trail sleds….. Yet they rode stuff they would not do back home!…..they were surprised at how steep the trails are here!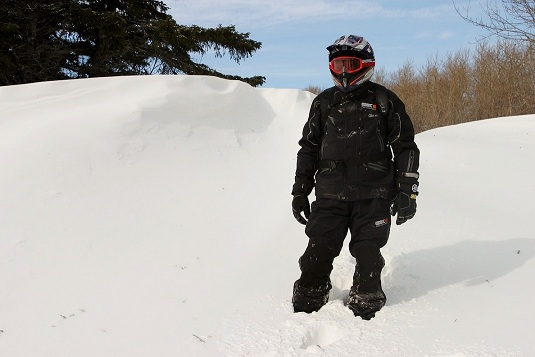 Pete and the 8 foot drifts..........

The cuts are not very good. The storm we got didn't fall very well. The snow is stacked only in very limited spots….most are wind-blown. I hope we get some snow 'cause it's just not good for riding any serious off trail or cuts…..

| | |
| --- | --- |
|         The Mountains and the Sea..... | |
Even the logging roads have huge snow drifts! It would be fun for mountains but that's not going to last 'cause the cold will set up the drifts and turn them hard.
NEED SNOW!!
……but like I said, the backcountry riding is good and the trails too…..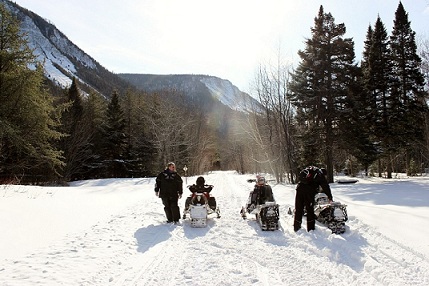 MOUNTAIN RIDERS !!! go to the Sledder's Prayer and pray for snow…..Jack
Return from Wednesday Update to Main Blog