Jan 13 / 2013 - Thaw conditions

Looks like we're doing the thaw thing again…. Just when we got good snow to play in the Gaspésie backcountry!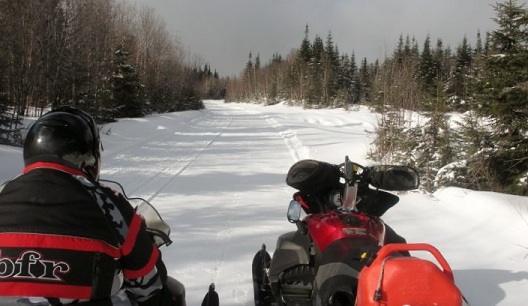 The trails are 'always' like this at the Sled Den!!

The trails are going to be highways. Trails and mountain riding will both benefit from this thaw.....with a bit of rain and now it's going to go cold, what a base!

Unfortunately, for those who are riding this week it's going to be 'scratchers' and 'stay on the trail'.
Not much new snow as far as cooling the slides and sleds.
There is going to be a good crust up above 2000 feet. Anything below will be pretty much rock hard. The trails will have some loose snow from sleds and the groomer. But for me, the mountains and backcountry will have to wait 'till the weekend when there is some fresh snow in the forecast.
We need some to cool the sleds. Would be good for non-long tracks if we got less than a foot.
They could play mountain with us!
In the meantime, here's  a link to "another white canvas to 'draw' on with our Polaris RMK's in the Gaspesie backcountry".
View video of Another White Canvas....

Hope for snow everyone. Jack
Return from Jan 13 - Thaw Conditions to HOME