Sled Den Update
Sunday, Nov 17, 2013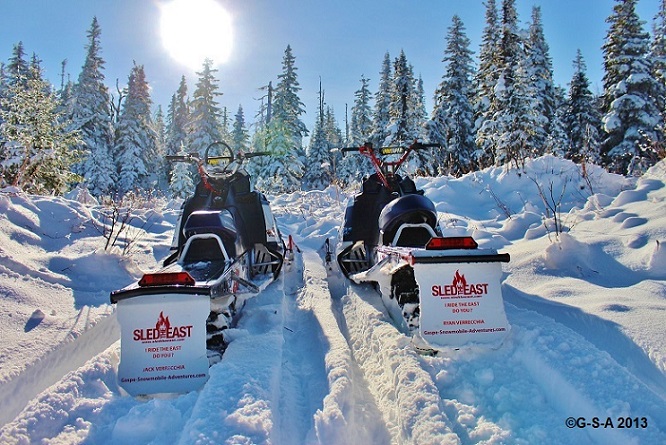 At The Sled Den on Sunday, just HAD to go for another ride…... Drove the truck in mud for about 6 kms and then there was a little snow….finally. As we got farther and higher, the snow got deeper.
Launching at the same place as the day before, we noticed the snow had gone down 30%. Well, more like just packed down from the warmer temps. This was a positive thing 'cause the snow was better to ride. Too fluffy the last ride so you would tap the odd rock on the runner. Now there was nothing but Braaap – whoohoo!
Didn't do any hard riding but it's just fun to see the snow and mountains. Plus - the bluebird sky and the smell of 2-stroke sure helps. Also riding with my bestest buddy just added to the joy of riding.  Oh, and the fact that it has been less than 6 months since I rode the last time – well, feeling happy, happy, happy!
Drove around looking for horns - didn't find any, but there were tons of moose tracks all over. They haven't moved down into the valleys just yet so you still have a chance to spot them.
We came back to The Sled Den at 1 pm and had a bite to eat. It was such a great day out, decided we would go bird hunting.
While we were scouting around, we found a couple of spots where Bears had been walking. Still lots of them in the backcountry- take a look at the paw print & the scat….
| | |
| --- | --- |
| | Oh yeah - we did end up getting a bird! |
WOW! Another point checked off the bucket list!!  Sledding and bird hunting the same day!!!
Last season we rode on the 19 of May. This season, on the 15 of May, we'll go Bear hunting because it starts that day.
Hmmm…..another one off the bucket list maybe.....
Hmmm…..May 19th 'till the 14th of November is 6 months - we ride 6 months a YEAR…..in the B.C. of Gaspésie !!!
Going to wait 'till the end of the week to ride again. We had some rain and it's going to go rock hard.
……besides, they are calling for a foot on Friday…….
I can't wait......  Jack