June 10 Weekend Update
at the Sled Den, Gaspesie

We got to The Sled Den at 6:30 at night….still early, so we decided to go for a little drive in the back of the Den.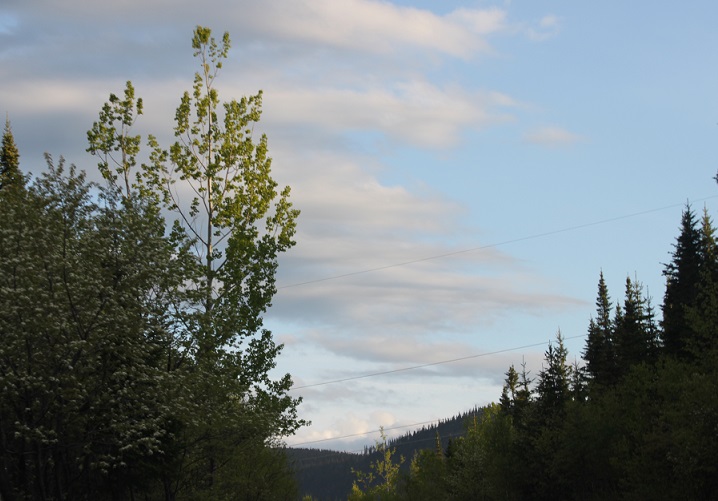 | | |
| --- | --- |
| | To our surprise, there were many Moose walking around. |
| It all looks so different – without the snow - when you see how big the trees really are – seeing 4 foot bushes come out from under the 8 feet of snow that we've been riding on all season!!  | |
| | |
| --- | --- |
| | ....couldn't pass - too much snow on the road!! |
.....the road is at 2000 ft – we are now looking down from 3200 ft – another 600 ft to climb....

Do you recognize that road we drove in on….without the snow?
The evening drive was interesting, to say the least…and to finish it off, we enjoyed a spectacular sun set!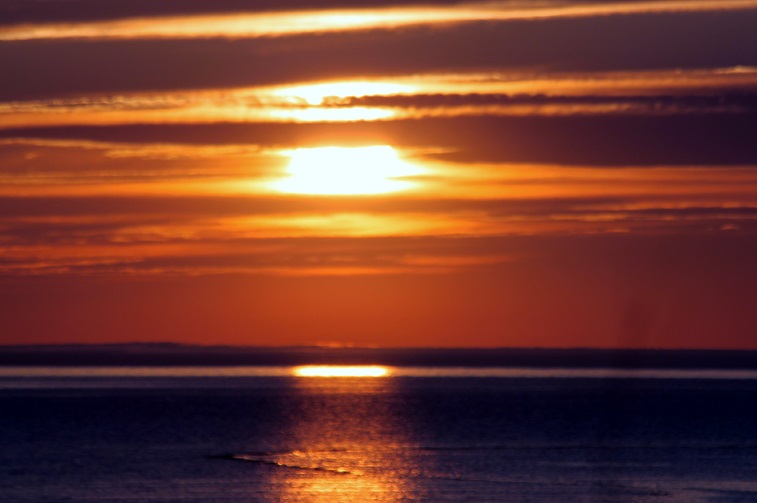 The second day we got up early and drove into the back of AREA X…..
| | |
| --- | --- |
| | Found snow at 3000 ft.... |
| | ...think we could have ridden 2 weeks ago….. maybe even later |
….then fished a lake we ride by when we go into the mountains. This is at 1800 ft. 
It was incredible!  We caught 6 - 8 inch Brookies – tasty!!
Hey….. I tried everything to get big ones!!  A fly worked the best 'cause there was zero to eat but bugs…..not a minnow. There were trout the size of minnows….. huge schools of them….. Let loads go and only kept the bigger and badly hooked ones…..built a fire and ate 20 of them.
We then caught a bunch more…. again only kept a few hurt ones. This lake has tons…..they all do back here….that's why you're allowed to keep15.
Around 11 we decided to leave. The drive out again was full of Moose. They are just everywhere!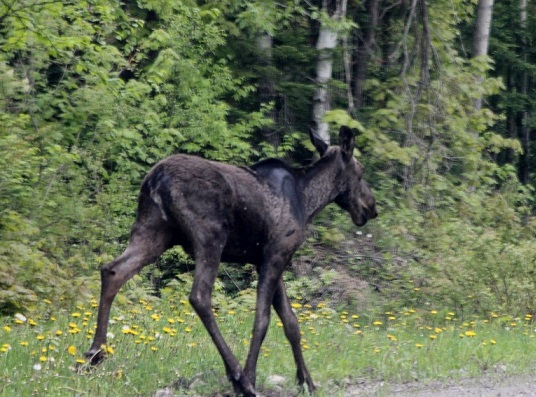 | | |
| --- | --- |
| ....1/2 km behind the Sled Den..... | |
| | |
| --- | --- |
| | ....female behind the Sled Den..... |
.....for those of you who have followed the posts of snow conditions....winter version with 6 ft of snow on the sides...
.....and summer version....

While driving down the coast to go fishing, we saw a bunch of birds tucking their wings and diving into the sea for fish. Man these things were cooking when they hit the water! They would just move along like a conveyer belt. So cool!!
That afternoon we fished at the Marsoui river mouth.....

....fishing from the bench in the mouth of the Marsoui river with the locals.....
| | |
| --- | --- |
| I caught a 3 - 4 pound ocean run Speck. | |
| | |
| --- | --- |
| | Then we went back to The Sled Den and ate some.... Yep.... Trout.... lol. |
After dinner we drove into the back again and saw a Siamese cat….. 7 kms in the Chic-Choc Mountains. Unbelievable!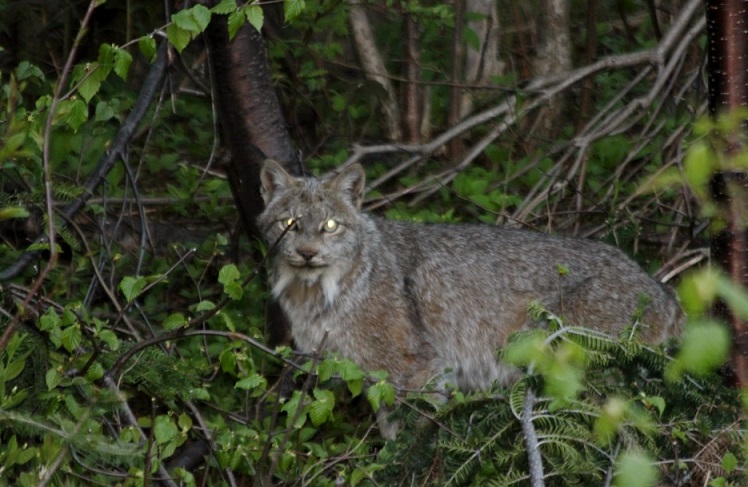 We saw a bobcat in the same area too...lol…
| | |
| --- | --- |
| | .....almost rideable snow at 3200 ft ..... |
| .....almost rideable snow..... | |
Then at 1400 ft, on the way back down, we saw a Doe. YA…. a female Deer…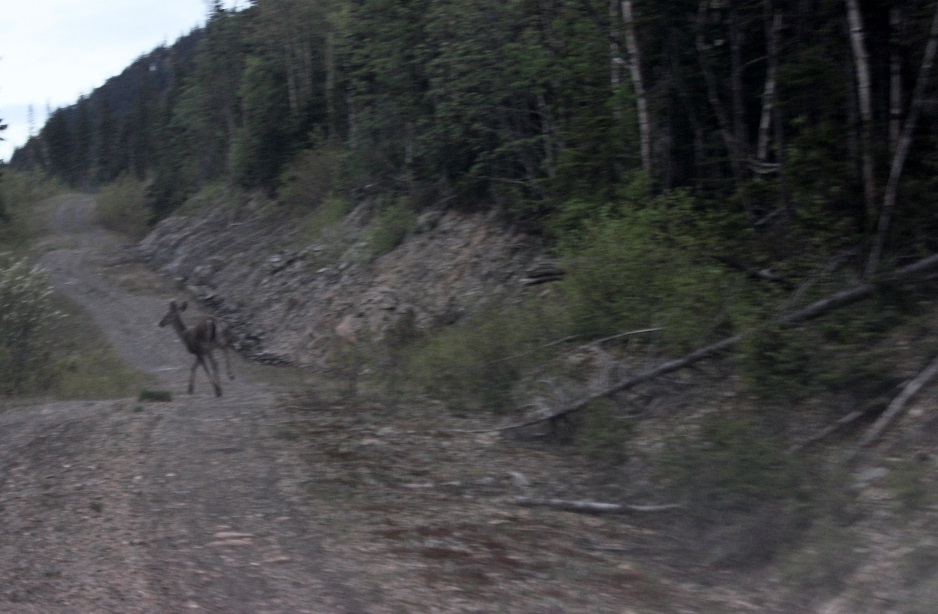 It was on a plateau where most of the animals are. If you really want to see animals here you have to be up in the valleys in the mountains.
When we got back to The Sled Den, we saw another awesome sunset!!!
This part of the trip was just amazing……..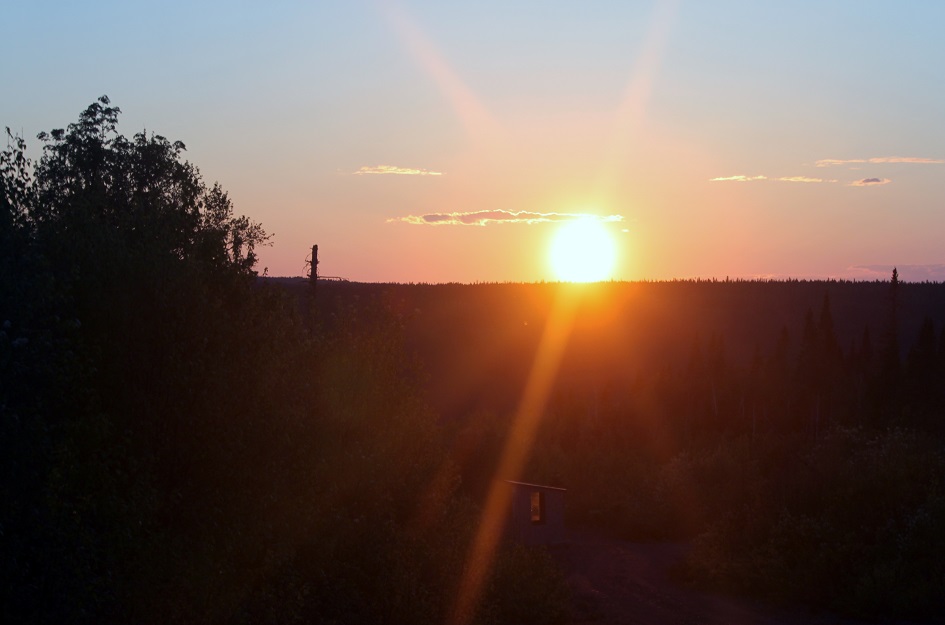 I'll have another report for the other 2 days. Yes, with more pics.  There will even be pics of an area where they are cutting trees. Yes... NEW CUTS…..no stumps 'cause the cutting is in the summer.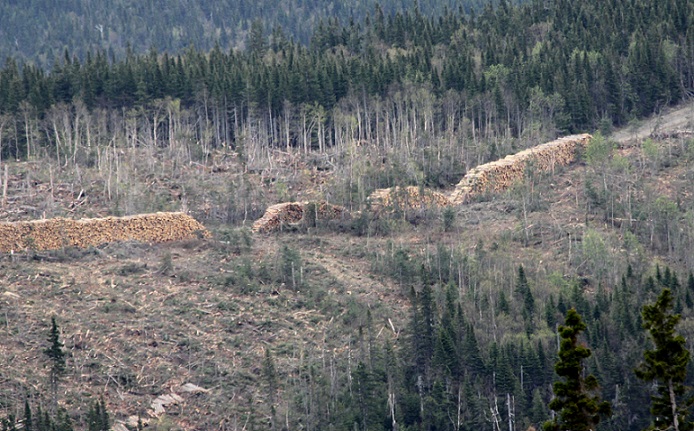 This will be an early area to ride.... Be the first one…. lol….I mean the third one…. My son and I will check it out first snow 'cause we can ride a road there.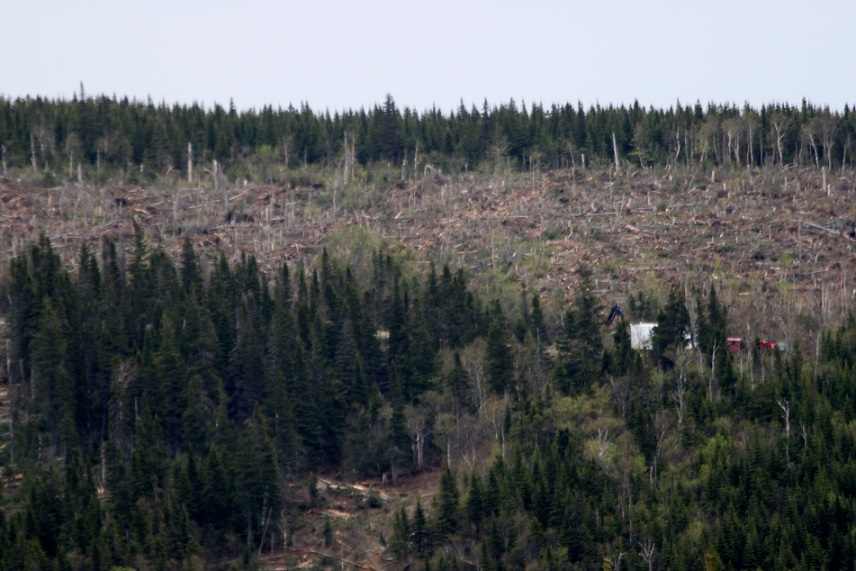 Oh….almost forgot …. we saw 2 bears 2kms behind The Sled Den….just a hundred yards from the #5 trail.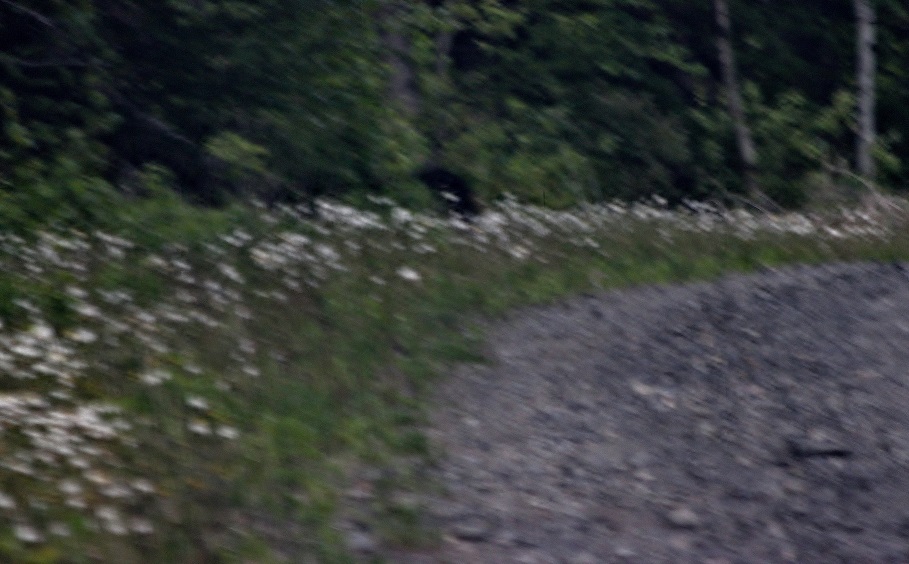 .....black blob = black bear running away.....

Now you know why they have Bear (Ours) lookouts behind The Sled Den.
| | |
| --- | --- |
| | ....bear scat.... |
No pics 'cause they were running and it was just too dark without a flash.
Gotta be careful when playing in the dark around here..…these things are everywhere….The flash sucks anyways at more than 20 yards.
                                                     .......   Jack