Update Thursday, Jan 24
at the Sled Den

It's been just a little too cold to ride with the wind here in Gaspésie……We have been getting very high winds which in turn have produced some nice snow squalls…..It's been squalling all day today….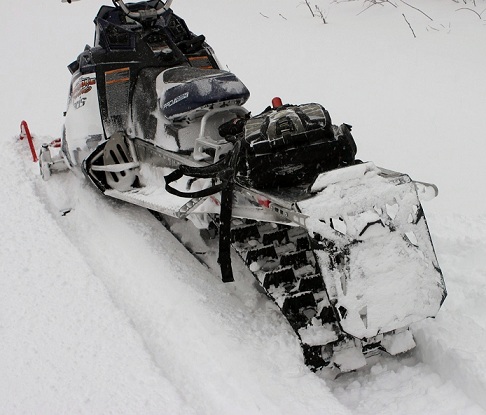 What can I say ? ….but….the trails are still like carpets!....lol...Everyone asks why I don't go on the trail and make tracks? …..Let the trail riders have the chance to do that, I cut tracks on a logging road for 2 hours…….
Gaspésie logging road.........cutting tracks..........

Then ………froze and rode home……..I did take a picture of my sled driving across the trail….lol….to go to the mountains…..
Crossing Trail # 5.......still like a carpet......

The mountains are good in the trees...The roads are good…Some places are still hard because the snow has been blown away from there… but there are spots where the snow has piled up 'cause of the wind…..Just got to know where to go……
As you go further in from the coast, the snow gets thinner. Most of the snow we've gotten the last week has been from the squalls….The Sled Den here has about 12 inches and as you go further into the backcountry there is less….
Still, found some good snow but not everyone did!
Boondocking 2 kms from the Sled Den....time to head home to defrost..........

What a playground! 
Jack

Return from Thursday, Jan 24 update to Main Blog