Report from The Sled Den
Saturday, Jan 31, 2015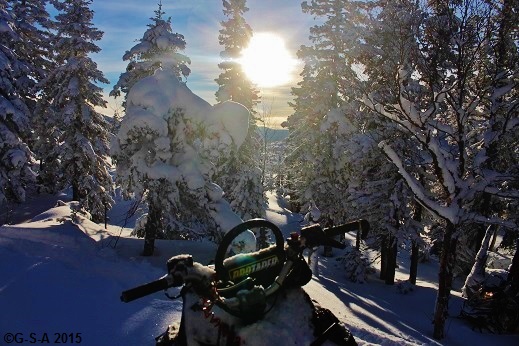 Left The Sled Den today and went out in a real, genuine snow storm!!!

Whoohoo!!!   It's our first one since Christmas….
It was predicted for last night but……arrived in the morning. The wind was nil and the snow was really coming down above 2000'. We stayed in just one cut practicing side hilling. The guys were surprised by the amount of snow…….as well as how deep it was…..unfortunately the snow was not deep everywhere…….
We rode for a few hours and then decided to leave 'cause it was snowing harder…..and the ride back was on track less snow again. Yes, it was snowing that hard…..by the way still snowing hard at 8:30 pm.
On our way out of the backcountry, we noticed that there were quite a few minor snow slides on the side of the road. Looks like the ice and now snow are going to be interesting in some spots tomorrow…..and we expect tomorrow to be EPIC……..finally!!!
The snow where we plan to ride is more than a foot deep and now with another on top, there will be over the hood powder......finally, some pow pics. 
These pics are from Thursday and today…… Jack