Sled Den Report: Guest Perspective Day 4 and final
Saturday, Feb 21, 2015

With new friends, the day started early with most of the group sitting around the kitchen table before 7 am.  Many of the guys were excited to get on their sleds and enjoy the new snow!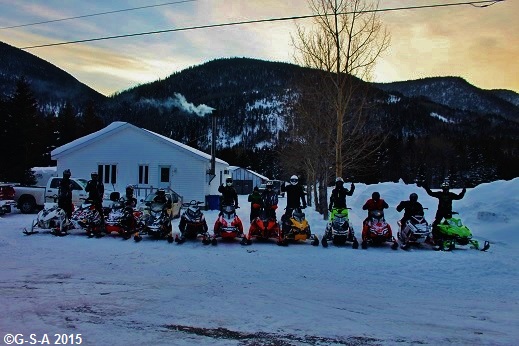 Three groups riding together means we all make new friends!
We had breakfast early and all prepared for the day, without a word or any instruction. It was truly amazing to see each member of the group finish breakfast and then turn up 5 minutes later with riding gear on, asking how long until we leave.  We all knew it would be the start of a good day.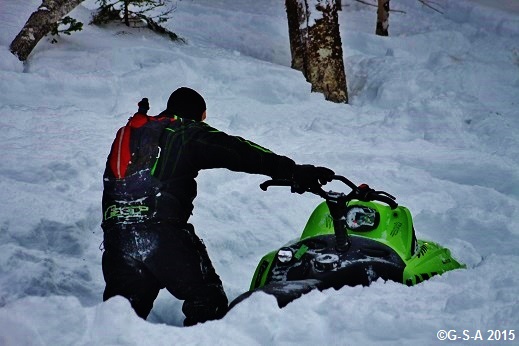 After quick truck and very short trail rides we were at the spot Jack had picked out for us to play in today.  As we were dropping into the area Jack and Ryan had selected to accommodate all skill levels of the group, we ran into another group of riders with a Guide.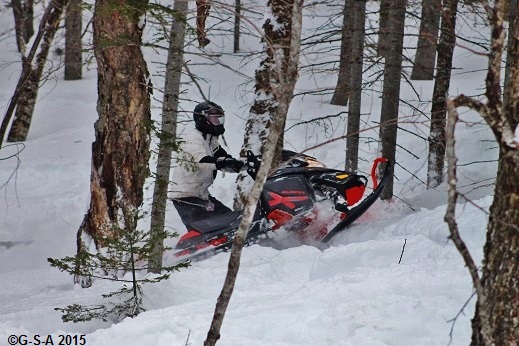 The other group had just climbed out of the playground and you could tell our group was slightly disappointed to be going into an area that was already tracked out.  To the surprise of our group, only the trails between cuts had even been ridden!  There was lots of fun left for us to enjoy!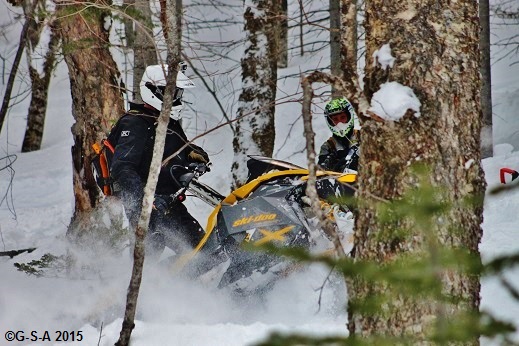 Ron cutting some lines in front of Robin....
We started the day with a technical area that was perfect for tree riding. The entire group tried to ride in the trees and test their skill level…..some had more success than others……but everyone enjoyed the experience.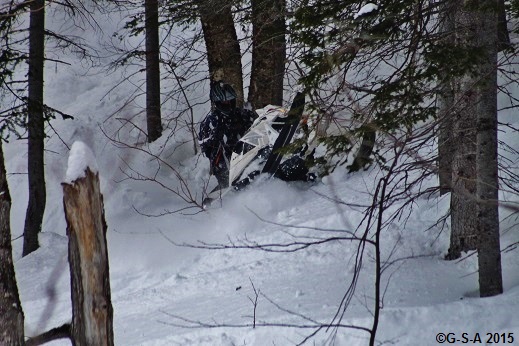 Alexandre
After we left this area we went to a less technical bowl, where the group began to play…..get stuck…..and find the adventure everyone came to experience.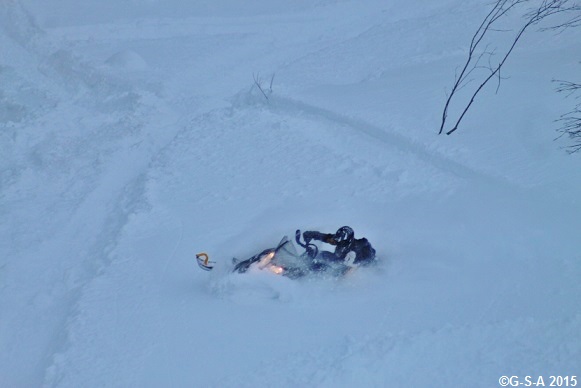 GT doings turns in deep powder
However, one unfortunate rider experienced a complete track failure - yes, the track split and was no longer connected to the sled.  The group quickly bound together, setup a convoy of sleds, and towed the failed sled back to the access road where it could be picked up.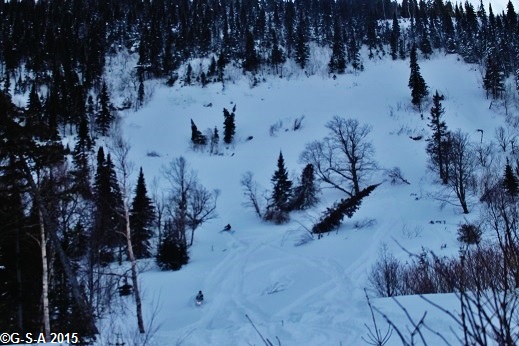 The Gang taking turns trying to get to the top.....
The day ended without any further event with a group that was extremely tired and headed back to The Sled Den for some great food and comradery.
Well, it's time to end this year's installment of the "Perspective from a Guest", we wanted to thank Ryan, Eva, and Jack for a great time. 
Thanks again for opening your Sled Den home to us and making us feel welcome and part of something more than just a vacation.  See you next year.
                                                      Trevor, Ron, Doug, and Marcus!
Many thanks Trevor, for contributing to our blog and for your kind words. It was a pleasure to host you again and looking forward to welcoming you next season to The Sled Den.
                              All the best,
                                              Jack, Ryan & Eva