Update from The Sled Den
Sunday, Dec 21, 2014

(4 more sleeps until Christmas)
Was alone at The Sled Den so I went out exploring with 2 local friends. One, Gaetan, works for the Forest Industry. The other, was his son Alex, who likes to hang with visiting riders from The Sled Den. Great kid and I am sure many would say the same.. ……..if our guests and friends don't mind and would want the company, we invite some locals to join us….. riding with them just seems to add to the sledding experience……
Well, the so called BIG stormed dumped more in New Brunswick than here…… We had gotten close to a foot and the snow was good 'till the rain came…….there was a bit more up in the Mountains.
I didn't take pics right aware 'cause the snow was only 6 - 8" on cement….would have had some really pretty pics of the trees and stuff…..but even that was not going to happen after the so called jump in the first 3 kms (a little less than 2 miles). We came to a spot where Hurricane Arthur from earlier this year made a real mess…… The damage was extremely extensive here in the Gaspésie.
We had to jump a small stream then a little river. Well, feeling young from riding with a bunch of younger riders, I all of a sudden got this urge to show my friend Gaetan, who is younger by a few years, just how I am still a badass…..lol..... I made the first little jump across the stream but the track spun and didn't get enough speed to make the 15 yard gap across the river…….. I hit the other side and crumpled into the handle bars. Thank god for a Neck-Brace. I hit the bars with my face and the 2 hand grips drove into my shoulders. My sled landed upside down in the water, a foot deep…..luckily turned off 'cause of the tether.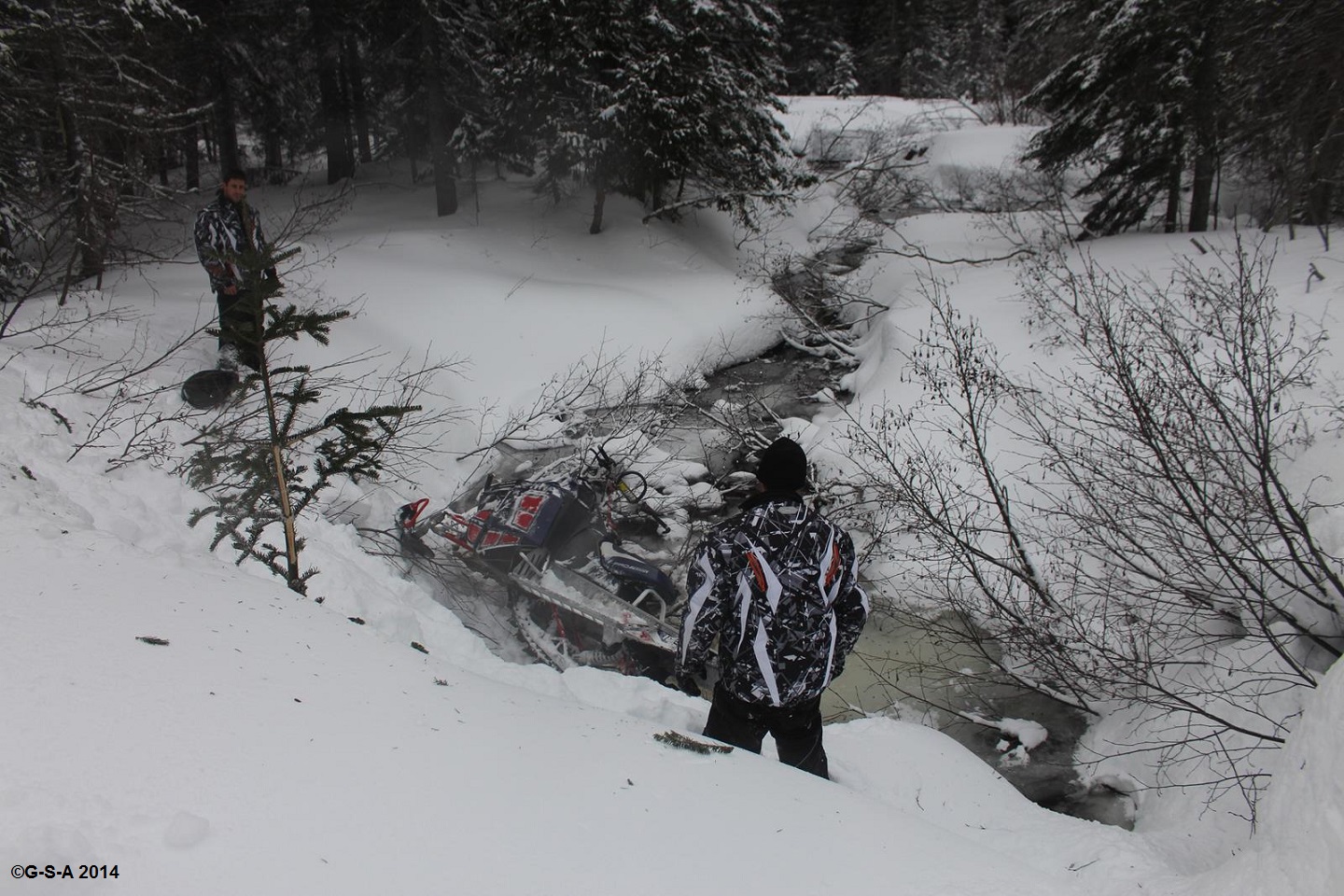 I had gear on so now just bruised……..sore neck and headache…….but learned I still won't break.....lol……. Watch out McCall, Idaho…….might try a Cliff drop. 
I can't tell you how important gear is for off trail if you really want to play! Hope for snow 'cause it's looking like eastern North America is getting RAIN for Christmas.                                              ………Jack