Report from The Sled Den
Wednesday, Feb 11, 2015

Remi, owner of Timbersled Quebec, LIKE their page on Facebook
Back at The Sled Den……
As everyone is well aware, out west is having one hell of a terrible winter – deep snow one day, rain the next, back to cement & then snow again!
This is why, although I was supposed to go to Idaho with a bunch of friends, like many this year, I had to cancel my trip west……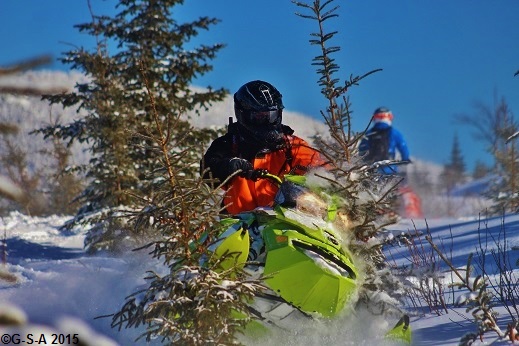 We, in the Haute Gaspésie, aren't getting hammered with snow but at least we are still using the words cold & snow. For some reason it seems that this year, everyone should be coming east…..It's really, really cold but I'd rather be cold than warm & wet.
Today, Americans and Quebecers rode the backcountry together and even though the languages aren't the same – we are all still getting along, having fun & making friends. It's amazing how having so much fun can bring people together even though they don't speak the same language – correction - we all speak Braaap!!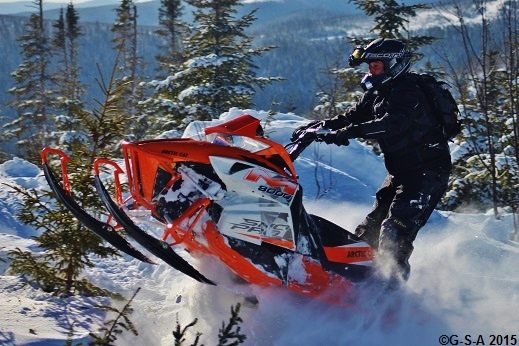 This morning, we started off sidehilling & riding some powder in the more open areas. This was so that some of the less experienced riders could get pointers from us & other riders in the group and build their confidence.
After 2 -3 hours we had lunch & then decided it was time to push the envelope.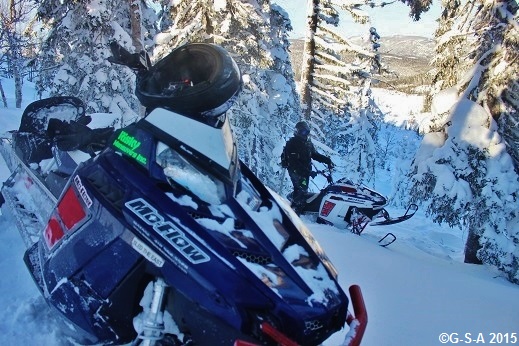 Lovin' the MO FLOW vents
I sidehilled into the trees and placed myself to take pictures and give pointers on what they were doing wrong & what they were doing right. We had a good time practicing everyone in the trees and after an hour or so everyone was tearing it up….
So far this year, everyone seems to be catching on really fast – how to use break & gas to sidehill & ride trees. These guys must be good – because I taught them how to ride trees on a Skidoo….ha ha - just kidding……
We're looking at some snow this weekend – hopefully it's a big nor'easter….
It just really sad when you see 4 feet in a week four hours south of here and nothing extra here…….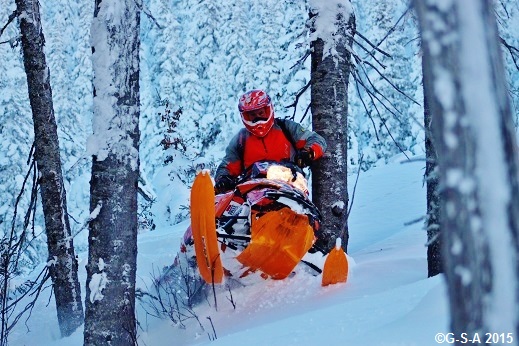 The snow is pretty sick in the trees – anywhere from a good 2 – 3 feet – some areas that have been tracked up before are more like a foot of fresh…..
If you find the cuts that are windblown, you find lots of snow. Unfortunately, we have not had a really big storm in over a month so that the really good riding areas with the good snow are still limited.
Sure, there is still 8 – 10 feet of snow, but what I call riding snow is what's on top of the 8 – 10 foot base. The trails are highways - rock hard.
If you like to ride open areas, pray for snow…….start your snow dance!!
If you are a tree rider or like to sidehill the steep & deep, there's lots to ride.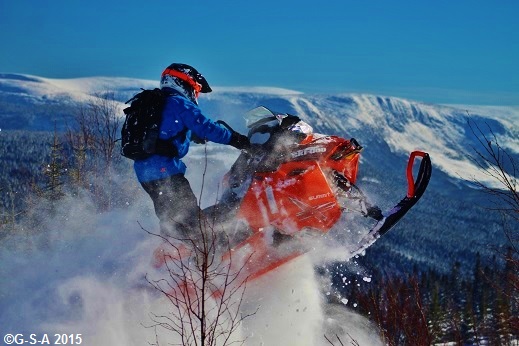 Don't forget, the easy stuff always goes first & it's been a while since we've had a significant dump of snow.
Don't get me wrong, we are riding really good powder but it's not everywhere…..gotta know where to go……..
                                                                ………Jack